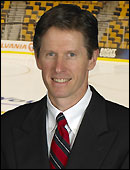 Hockey season is in full swing sports fans, and like Boston's other sports teams have the past few years, the Bruins are dominating the league. If you didn't know that, then you probably also didn't know that the Bruins announcer is none other than my main man "Jacky D" Jack Edwards. After watching a few games with Jacky D (this is what I call him) behind the microphone I instantly became hooked on his off the wall, blatantly
homerish
commentary. Allow me to guide you through the world of Jack Edwards and show you why he is the hardest working man in sports. You will soon appreciate why I have written to
NESN
asking for an autographed picture of Jack Edwards, and you just might learn a few things along the way.
You might remember Jacky D from his days on ESPN as a
Sportscenter
anchor. He can be seen in the memorable
Sportscenter
commercial in which they hire an anchor out of
highschool
with less than satisfactory results (http://www.youtube.com/watch?v=0HxRkFtIIdA). Also seen in that commercial is my cousin Seth Hayes. Also in the Superbowl is my other cousin Gerald Hayes. But I digress. Jacky D's resume goes back quite a bit further than that however. Edwards, a New Hampshire
native and
UNH
alum, started out as a play-by-play announcer for the
UNH
Wildcats hockey team and then worked his way through the local TV ranks until he got hired by ABC's Wide World of Sports. If you have ever seen this show, you know how "wide" the range of sports they had were. I think I recall seeing former
Eagles
LB Bill
Bergey
playing golf and former Royals infielder Freddie
Patek
swimming in one episode. Jacky D then went on to ESPN and covered a great number of sporting events for them as well. After ESPN, Edwards went on to cover soccer games for ABC. Finally, after 25 years in the business Jack Edwards got what I think is his dream job, announcing Bruins hockey. The man put in his time, being exiled to covered the oddest sports around and it finally paid off for him. His passion for hockey is evidenced in any game you hear him announce.
When I first saw Jacky D on
NESN
announcing Bruins games I thought "Why is this little pipsqueak announcing pro hockey games?" and "Why is he such a homer for the Bruins?" but after a few minutes of watching the game I realized why. He was a natural. Have you ever heard an amateur announce a hockey game? Have you ever tried to do play-by-play for a game on your own? Let me tell you it is damn near impossible. You have to think of creative things to say for each second of action on the ice and you have to know every single players name on the ice at all times and be able to summon that name in a split second if the puck is passed to him. I tried to announce ten seconds of a game once and I sounded like Brian Collins aka "Boom Goes the Dynamite"with all my stuttering and passes "to the man". Jacky D announces the game effortlessly, but with the emotions of a 10 year old. You can dismiss his homer-ism because he is passionate about the game, and for the fact that it is humorous. A little humor could be good for a sport that is disregarded by many still after its lockout season a few years back. Whenever there is a fight, no matter how badly the Bruins player gets his ass kicked, it is always a "Unanimous Decision" in his favor. For every big hit there is a "(insert name(usually
Lucic
)) levels him!" and for every stopped puck a "SAVE_BY_THOMAS!!!". Jacky D is bringing the excitement back to the game, and he can convince a
Flyers
fan to watch the Bruins, then he can probably convince anybody. If you have the Versus network, tune into a game next time the Bruins are playing. There is a chance that Jacky D might be announcing that game, and if he is, take notes. While he has to be less pro-Boston on Versus, you will still hear some classy Jacky D vocabulary, and I bet you will be hooked.
Jacky D's Vocab Book:
"Spoons it down the river"- to clear the puck from the defensive zone
"Setting up in Wayne Gretzky's office"(personal favorite)- To stand behind the goal with the puck in the offensive zone
"Bangs him" - a hard hit along the boards
"Knocks him onto queer street"- a big hit
"D to D"- pass from one
defenseman
to another
"tick, tack, goal"- pass, pass, goal
"Look what I found! A puck and an empty net!"- Goal, not necessarily empty net
"Puck goes over the net and into the restaurant. Waiter there's a puck in my soup!"- Puck out of play
"He's got a bee in his bonnet"- describes losing player in a fight
"Blows a tire"- skater loses an edge and falls over
"Einstein's Assistant"- David
Krejci
"Forearm shiver"- a punch or shove
12 days of Christmas- http://www.youtube.com/watch?v=TD3DKRJG_48
Try to use one in a sentence today!
borst likes LOST