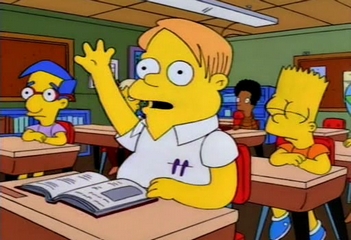 The AFC teams this year ran the
gamut
in grades. We had some teams that looked like real Martin Princes out there, but we also had some Nelson
Muntz
and
Jimbo
Jones types as well. In all I thought that Miami, Cincinnati and Denver each had great draft weekends, while Oakland, Indianapolis and San Diego did not impress me. Let's break it down team by team and separate the nerds from the bullies.


AFC EAST
Buffalo Bills: B-
Gotta give Buffalo credit, they stuck with the program and shored up both lines with Aaron
Maybin
and Eric Wood in the first round. Would have liked to see a tackle with the second pick, but not bad. They overhauled their secondary with their later picks as well. Really not bad.
Miami Dolphins: B+
I liked Miami's draft. I really did. I thought
Vontae
Davis was a fine first round pick, and I love the picks of Pat White and Sean Smith in round 2. Pat White will make that offense even more unpredictable. I love it. I also like the later round
WR
picks and the pick of Clemons from Clemson. Do you think he thought about that before he decided to go to Clemson? I do. Nice job as the Dolphins continue the turn around.
New England Patriots: B
I was not as high on the Pats draft as others. I understand the strategy by Bill
Belichick
aka "Bill
Billabill
" to trade down to acquire more picks and to turn lower picks into higher picks the next year, but I think they
could've
gotten more value. I thought Rey
Maualuga
and Everette Brown would have made great picks in the early 2
nd
round for the Pats, but they went with Patrick "Connie" Chung and Ron "
Lessgoeeegulls
" Brace. Those two guys seem like reaches to me. They also inexplicably traded Ellis Hobbs for two late round picks. In their defense though, Bill
Billabill
always has a plan, and I did like the pick of Darius Butler in Round 2. I also bet that they get more value out of their later round picks than any other team. All things considered, the Pats skate out of the draft with a B. Also, Wendi Nix definitely got hotter.
New York Jets: C+
They gave up a lot to get Mark Sanchez, but I think it was a good move for New York. They needed a quarterback most and they got one of the best ones in the draft. Other than that, they got a rood replacement for Thomas Jones in Shonn Greene and an offensive lineman. Thought they might try to find a wide receiver to replace Leveranues Coles. Only three picks, but not a bad job by the Jets.
AFC NORTH
(apparently it's called the North these days)
Pittsburgh
Steelers
: C
The
Steelers
had a very average draft. However, they don't really need anything. They got help on both lines in the first two rounds, always a good strategy, and then added a few pieces on
offense
and defense in the later rounds. Nothing special for the
Steelers
. I like A.Q.
Shipley
in round 7. Look for him to be the next Jeff Saturday.
Cincinnati Bengals: A-
The
Bungals
had one of the best drafts in my opinion. They were smart enough to take Rey
Maualuga
when he slipped into the second round, and also got a nice lottery pick in Andre Smith to protect Carson Palmer. When you think about it that way, the Bengals really had two first rounders in the draft. I also like Chase
Coffman
in the third round as another target and blocker for Palmer. The Bengals also added some bodies to both lines and took a
flier
on two running backs in the later rounds. Way to go.
Cleveland Browns: C-
The Browns have another puzzling draft. They trade down with the Jets and select "The Secret World of" Alex Mack. A center? Browns fans must be pissed. They then reach on two receivers in the second round, when there was much more available. In hindsight they probably should have gone after a receiver in the first round and a center in the second. The
Mangenius
doesn't look so smart in my book. When they could have had an impact player in the first round, the picks/players they got from the Jets don't seem that great to me.
Bodymore
Ravens: C+
I like the addition of Michael
Oher
to protect
Flacco
and his stupid hair, but then three
defenseman
with their next 3 picks seemed a bit odd for a team with one of the best defenses in football. I would have liked to see a receiver in there as Derrick Mason is getting well old. Also, a running back in the 6
th
round didn't make much sense as they already have Willis
McGahee
, Ray Rice and
LeRon
McClain.
AFC SOUTH
Tennessee Titans: B
Tennessee's draft was pretty decent. They added Kenny Britt to provide another offensive target, and will do what they can with
Sen'Derrick
Marks to replace Albert
Haynesworth
. I also like the additions of Jared Cook and
Javon
Ringer on offense.
Javon
Ringer just sounds like a football player name, I think that bodes well for him. I always thought Wes Helms would never make it in baseball because his name sucks.
Indianapolis Colts: D
I give the Colts a D because they had so many other needs besides running back. I love Donald Brown and I think he is going to be great, but the Colts already have Joseph
Addai
and Dominic (always pronounced Dominique on
tv
) Rhodes. Why draft another running back? I don't get it. The Colts lost Marvin Harrison at
WR
, and always need help on defense, yet they draft a running back. Mind bottling. They got the guy with the best name though in Austin Collie, and also got a good player in K Pat
McAfee
. Too bad they already have that
Vinatieri
guy though.
Houston Texans: B-
The Texans are on their way to the playoffs! (early prediction) They acquired a stout linebacker in Brian
Cushing
and will give Mario Williams some help in the trenches with Connor
Barwin
. I also like the addition of S Glover Quin, simply because he is from New Mexico. I remember another fella who used to be a safety at
UNM
. His name? Brian
Urlacher
. Soon we will hear, "Behold the sword of Quin!". Watch out for the Texans in '09.
Jacksonville Jaguars: B-
Jacksonville got two great offensive tackles this year. That should help David Garrard immensely next year. I thought their back to back third round picks of Terrance
Knighton
from temple and Derek Cox could have been better though. Speaking of Temple, how weird and off-putting was that interview with Bill and
Quan
Cosby during the second day of the draft? Was Bill Cosby drunk? I didn't understand it at all. Erin Andrews was the only reason I didn't turn the channel. Good picks in the later rounds by the Jags with
Rashad
Jennings and Zach Miller from the Nebraska-Omaha Mavericks. They get a B- overall for good early, bad middle, and good late picks.
AFC WEST
San Diego Chargers: C-
The Chargers are lucky that they do not need much, otherwise this grade would have been lower. I thought that Larry English was a major reach in round one, and that a linebacker would have made more sense. They then added two guards and a defensive tackle after that, when I thought
linebacking
help, secondary help and possibly a
WR
or TE would have made more sense. Then a running back in the 4
th
round. Ugh. How much did they just spend on 2 running backs? Very bad draft by San Diego. They stockpiled linemen, but who will be there if Antonio Gates,
Shawne
Merriman
, Antonio
Cromartie
or Quentin
Jammer
get injured? I dunno.
Kansas City Chiefs: C
The Chiefs overhauled their defensive line, even though Tyson Jackson was a reach at 3. This will give Glenn Dorsey some help next year and provide some run stoppage. I like CB Donald Washington in the 3rd round, but I also would have liked to see a few more offensive selections to help out Matt
Cassel
, especially with Tony Gonzalez now in Atlanta. Should be an interesting year for the Chefs.
Oakland Raiders: D-
Obviously the story of the Raiders draft was picking
Derrius
Heyward
-Bey with the 7
th
overall pick. I don't hate this pick that much, I just hate it at 7. The Raiders could have traded down, or traded for another late first rounder if they wanted him so badly. He probably still would have been available around pick 20 or so. I thought O-line was also a need that went unaddressed for the Silver and Black. Maybe they could turn that 300 pound QB of theirs into a quality Offensive tackle. Their round two pick of Mike Mitchell was another big reach. I did like the pick of
WR
Louis Murphy in round 4, but that was about it. Al Davis needs to be put out of his misery.
Denver Broncos: A
Josh
McDaniels
probably feels a little bit better now after screwing up the Jay Cutler situation so badly. He had a great draft.
Knowshon
Moreno was an awesome pick for them in the first round and will give the ground game a huge boost, as well as take pressure off of
UKO
aka Ugly Kyle Orton. The next two picks of Robert Ayers and Alphonso Smith were just as good. They will certainly help improve a terrible Broncos D. They then added more help at safety and along the O line. With all these improvements, even Kyle Orton should have enough help to be successful. And if not, the Broncs also made a good move in adding QB Tom
Brandstater
. Spectacular weekend for the Broncos. Now they just need to go back to their old unis.
That's the AFC as I see it. I'm sure you guys have some thoughts. DBillz on the Raiders, Humper, Dill and Dorne on the Pats, Andrew Brown on the Dolphins. Let's hear 'em.