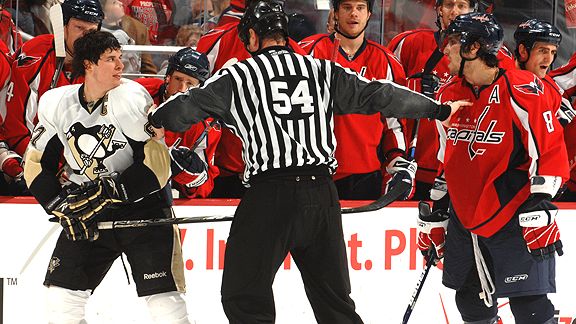 The NHL counted its blessings when the Pittsburgh Penguins dismissed the
Flyers
in six games, and when the Capitals came from the brink of elimination to stun the Rangers 4 games to 3 in the first round of the playoffs. They finally got what they wanted in an
Ovechkin
vs. Crosby showdown. The ratings for these games has been through the roof (relatively speaking) and mirrors the hype and hysteria of when
Lex
Luger fought
Yokozuna
at
Wrestlemania
X, or Hogan vs. Andre the Giant at
Wrestlemania
III. Regardless of who's side you are on, this series has been great for hockey. I have been on record though as saying that
Ovechkin
is better than Crosby and I am hoping that the Caps pull it out.
Neither player has disappointed in this series so far.
Ovechkin
has 5 goals, Crosby has 4, and each had a hat trick in game 2. However, you would think that Crosby has done nothing by the way he acts. When
Ovey
scores a goal he dances around, jumps up and crashes into the boards, and fist pumps like crazy. This is what people want to see; the fans are as excited as he is and feed off of his energy. When Crosby scores, he usually has a very run of the mill celebration. In my opinion, it seems to me as if he thinks he is better than the game. Whenever I see Crosby I think stuck up Canadian pretty boy. Meanwhile
Ovechkin
resembles more of an unleashed tiger or a whirling dervish. The picture above also speaks volumes. Crosby appears startled and upset as if some hooligan had just knocked off his top hat, while
Ovechkin
looks like he's ready to go. I'm talking about go. That's what I'm talking about. First one's on the house. Ovechkin is the future. Just accept it Gary Bettman.
Maybe I'm just biased because I hate Pittsburgh, but I think that Sidney Crosby is a big pussy. Alex the Great is a much more exciting and dynamic hockey player and I would love to see him steamroll the Penguins on his way to the Conference and possibly Stanley Cup Finals. Crosby is too worried about his endorsements and the arrival of his first
pube
to play the way that
Ovechkin
does. Despite my hatred of Crosby, I would love to see this series go 7 games because we are witnessing some great hockey here. Ultimately though, I think we will see
Ovechkin
give Crosby the proverbial "Human Torture Rack", "Flying Forearm", "Big Boot" or "Hogan Leg Drop" and take over as Heavyweight Champ in the NHL. See what I did there?