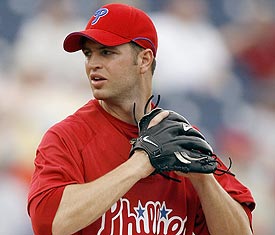 Ladies and Gentlemen, the time has come. Get ready for the J.A.
Happ
experience. Now that the Chan Ho Park era is over in Philadelphia, we can look forward to much more success from our new 5
th
starter. I doubt very much that
Happ
will become the next Steve Carlton or Randy Johnson, but he should help stabilize this
Phillies
rotation that is sporting a robust 6.35 ERA. In the case of Chan Ho Park, shit happens. Luckily J.A.
Happ
has been there to mop it up.
The
Phillies
are not a team that needs great pitching in order to be successful like the Giants or the A's. They count on their offense to get the job done. They just need a guy that can go out there every fifth day, pitch about 6 innings and keep the team in the game. More often than not the
Phils
bats, especially the bat of Matt Stairs, will do the rest. The problem with the
Phillies
rotation so far has been the amount of innings that they have pitched. Several times the triumvirate of Joe
Blanton
, Jamie
Moyer
and Chan Ho Park have failed to go even two or three innings, making it extremely difficult for the bullpen to stay rested and forcing the offense to play catch up all the time. The offense has certainly been able to catch up several times this year, but this is not a recipe for long term success. The
Phillies
just need a few guys that can stay out there for a while and hold the other team to 4 or 5 runs. J.A.
Happ
can do that I think.
When the
Phils
rotation has faltered this year,
Happ
has been there to stop the bleeding. In 21.2 innings of relief this season,
Happ
has only allowed 6 runs to cross the plate.
Happ
also struck out 17 in those 21.2 innings. He has done just what the
Phillies
needed from a starter, but in the bullpen. In terms of a starting pitcher, the 26 year old definitely has some upside. He is a mountain of a man at 6'6" and about 200 pounds, and he has good velocity on his fastball at about 94 mph. The main question for
Happ
will be can he sustain his effectiveness over 5 to 6 innings? Moreover for the
Phillies
, can Ho fill in for
Happ
adequately in the bullpen? Last year Chan excelled in the bullpen, so hopefully he can find his
mojo
again in relief. Also, the team will be buoyed by the addition of J.C. Romero in a week or two which will give the bullpen another live arm. All things considered this is a good move for the
Phillies
.
Hopefully young Mr.
Happ
can provide a more reliable starter than Chan Ho did. I also expect much more from Joe
Blanton
and Jamie
Moyer
than they have shown so far. They don't have to pitch great, just eat up innings and keep the team in the game. If they can do that, then they will have done their job. If they can do their jobs, expect the
Phillies
to really take off in the
NL
East. If not, look for guys like Carlos
Carrasco
or Kyle Kendrick to be brought up, or for the
Phillies
to make a signing or trade. Good luck Mr.
Happ
. And remember, shit happens.