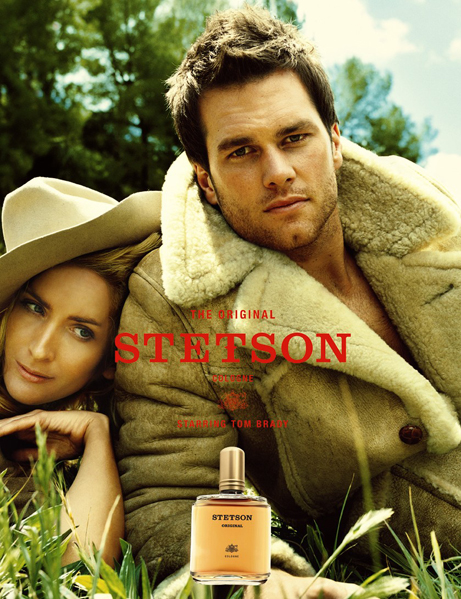 Yesterday, Tom Brady was seen practicing at Gillette Stadium. With this sighting, I expect
Tum's
Rum to be back online and posting multiple times per day. Also, we can naturally expect the New England Patriots (or
PatriOTTs
if your name is Bobby Knight) to challenge for another Super Bowl in 2009. With all his old weapons, and several new ones, in the stable this year the Pats offense should be very dynamic and tough to stop. However, if the Patriots really want to go anywhere this season, their quarterback needs to get off of his high horse and get to work.
If you look at the picture of Tom Brady in the Stetson ad to the left, you will see a man who has come a long way in his life. After a decent career at Michigan, Brady was overlooked by every team several times in the 2000 NFL Draft and was finally drafted in the 6
th
round (199 overall) by the Pats. Well, we all know what has happened since then. Brady took over the Patriots offense and has guided them to 3 Super Bowl championships and a 16-0 regular season record for the first time ever. However, somewhere along the line the hard working, fun loving kid with a rocket arm and a
bowl cut
let his celebrity get to him.
This guy
turned into
this guy
.
Much like Rick Vaughn in Major League II, I think that Tom Brady's celebrity status is having an effect on his performance on the field. Two years ago, when the Patriots were on the verge of making history in the Super Bowl, instead of seeing a team working hard and practicing together we saw
pictures
Tom Brady in New York with Gisele. The Patriots season had become a tabloid scandal. Every move was shrouded in mystery and uncertainty. Why was Tom Brady not with the team? Why did he have a boot on his foot? I give all the credit to the Giants for winning that game, but I feel like Tom Brady's head was not and has not been in the game for a while. He threw 50
TDs
that year, but it looked like he wasn't having any fun at all. He has let his celebrity status and his hot wife go to his head. Who would care about football when you've got a wife like Gisele and a boatload of money?
After essentially wasting a season in 2008, the Patriots are looking to re-assert their status as the next sports dynasty this year. If they wish to do so, it's gotta start with their QB. He needs to bring himself back down to earth and re-fuel that competitive fire that burns inside of him. If he is able to do this, the rest of the NFL should be on red alert. If we see him on
tv
dressed as a
merman
, the Patriots could have a rough season.