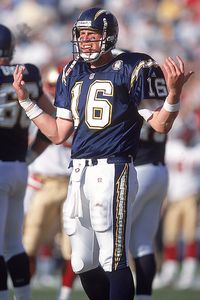 The saga continues for Ryan Leaf. After being drafted 2
nd
overall in 1998, and being touted as "Our guy for the next 10 to 15 years" by a Chargers front office guy whom I hope was fired, Leaf's career and life have come crashing down. After numerous on and off the field incidents, Leaf was cut loose in San Diego and spent short stints with several other teams before retiring in 2002. Leaf then went on to coach football and golf at West Texas A&M before being asked to resign amidst a scandal that he was buying drugs from players. Now he is apparently on the run from the law after breaking into
someone's
home to steal
hydrocodone
. Besides being the worst person ever, Ryan Leaf is also the reason why players like Percy
Harvin
slip so far in the draft.
There should be a poster of Ryan Leaf tacked to the wall in every NFL war room that every GM must look at when they are struggling to decide whether or not to draft a guy with "character issues". If there is any doubt as to whether a guy's attitude could be detrimental to the team, they just point to the Leaf poster and decide to go elsewhere with the pick. During this year's draft, Percy
Harvin
was said to be one of these guys. He had the talent to be a top 10 pick possibly, but he ended up falling to the Vikings at #22 (called it).
GMs
and coaches were worried that he lived in "
Percyworld
" and did not have strong enough character for a pro team. Even if Harvin tears up the NFL next year like Randy Moss did 10 years prior after falling to pick #21 in the draft (same draft that Leaf was picked in, funny), I don't think that any teams will be upset that they did not pick him. They will just be happy that they don't have to deal with him.
We have seen so many times how one player can absolutely destroy a team. T.O. in San Francisco, Philadelphia, Dallas and Buffalo. Oh, whoops. Cross Buffalo out. For now. Randy Moss in Minnesota.
Plaxico
in New York. Mike Vick in Atlanta, and Ryan Leaf with antics like
this
in San Diego. So the next time your team passes over a guy with character issues in the draft, give them a round of applause for making the right move. Sooner or later, problems will surface with those guys. Teams are better off just Leaf-
ing
them be. Swish.