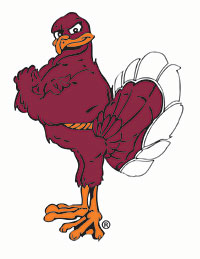 Everyone seems to be sweating Miami this week in the media. In fact very few have even given Virginia Tech a chance because of their play last week against Nebraska. Well sir, I for one am not buying it. Miami has been given way too much respect for beating Florida State and Georgia Tech. In my opinion, most college football rankings are bogus to begin with, and in light of the South Carolina upset over Ole Miss last night, I'm picking the
Hokies
to win in
Blacksburg
tomorrow.
Writers and media personalities have been quick to anoint Miami as the new "it" team after their impressive 2-0 start. If you have watched
TV
or listened to sports radio this week, it would seem as if Virginia Tech doesn't stand a chance this weekend. I think they stand more than a chance though.
Frank
Beamer
has led the
Hokies
to be one of the most competitive teams in the
ACC
, and consistently has one of the best special teams units in the NCAA. With a battle of two closely ranked and teams this week, it could come down to a special teams play. Moreover, you know
Beamer
will have the
Hokies
firing on all cylinders after last week's lackluster performance. By the way, did I mention that the
Hokies
are playing at home?
The ranking system in NCAA football seems pretty ridiculous to me. In fact, it is more disappointing than that one "child" in Children of the Corn that looks like he is about 35(bottom right corner of
this picture
. He is most evident in the movie when Isaac and Malachi get in a fight and Malachi tells the dude to hang Isaac from the corn crucifix). I thought they were supposed to die at age 19. No wonder that movie only got one star. But I digress. I don't know the mathematics behind it, but it seems to me that a team (that started the season
unranked
mind you) that beats teams ranked #18 and #14 should not be ranked #9. Look what happened to Ole Miss. They started the season
unranked
, climbed as high as #4 somehow only to get upset by South Carolina last night. If you ask me, that wasn't as big of an upset as the rankings make it look and I think the same thing might happen to the 'Canes tomorrow.
Even as I write this, I hear the annoying voice of Todd
McShay
coming from the ESPN page that I have open, "The team to watch is the Miami Hurricanes" he says. I think we are going to be watching them lose Mr.
McShay
. Keeping with the upset theme, I could see Fresno State upending #14 Cincinnati, Oregon giving #6 Cal a run for their money, and, stay with me now, Arkansas knocking off #3 Alabama. TAKE THAT NICK
SABAN
. Have a great weekend everyone!