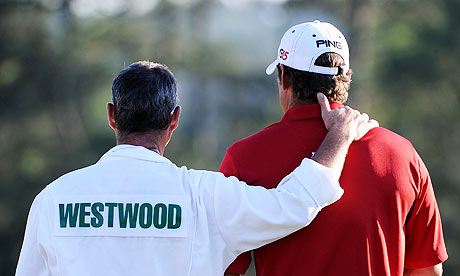 Wow! What an exciting four days of golf! It got pretty crazy at the end; Freddy charged and then faded, K.J.
Choi
was steadily climbing the
leader board
but stumbled down the stretch, Tiger tried his best but just couldn't play consistently enough, and for about half an hour there was nobody hotter than Anthony Kim. In the end though, Lee
Westwood
was able to hold off the rest of the field and win his first green jacket, ending a 20 year drought for the folks from across the pond. Let's take a look back at the week that was and see what we can learn going forward.
Let's first take a look at something that could be a sign of things to come.
Eldrick
Woods was nowhere near as sharp as he was before his layoff, but still managed to shoot -11 and come in 3rd. The fact that he can be extremely erratic off the tee, putt horribly, chip even worse and still finish tied for third speaks to just how good he is. Soon enough he will shake off the rust and start to dominate the tour again.
Our next exhibit is one Anthony Ha-
Jin
Kim. In a four hole stretch on the back nine, Kim was 5 under. If that is not coming through in the clutch then I don't know what is. He is not done winning on tour this year, and made the Masters extremely exciting down the stretch by giving Lee
Westwood
a run for his money. Congrats on the 2nd place finish Anthony. You'll don the green jacket soon enough young man.
Next we have the man in the skater shoes. Freddy had us all believing that a geezer could win a major tournament again this year much like Tom Watson and Kenny Perry did in '09. These are always the best stories at major tournaments. When someone that is well old and revered in the
PGA
ranks takes the lead at a major tournament, they instantly become the crowd favorite. Again though, Freddy's falter down the stretch speaks to how difficult it is for an old timer to actually win a major. This in turn makes you appreciate just how amazing Jack Nicklaus'
Masters win in 1986
at age 46 was. Probably the best win of all time. Regardless, I will probably be investing in a pair of these
puppies
sometime soon.
Finally, let us congratulate
Lee

Westwood
, who shall now be known as "The Wizard", on his first major championship. The Wizard was able to weather the storm all weekend, bouncing back from seemingly devastating bogeys and handling charges from many different golfers while staying atop the
leader board
. Congratulations Lee, you are the 2010 Masters champ and nobody can take that away from you!