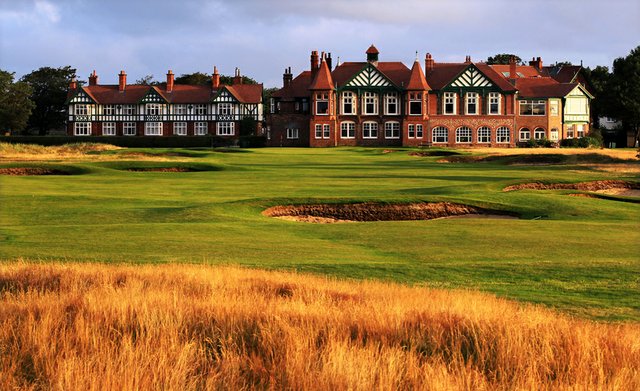 It's that time of year again folks. Set your alarm clock for 3 a.m., put on a pot of tea, and fix yourself a plate of bangers and mash. That's right, it is British Open week. And, yes, I said British Open and not "Open Championship." Deal with it you damn limeys. The British Open throws everything a golf course can at golfers; wind, rain, tall rough, lumpy greens, treacherous bunkers, and narrow fairways. Bearing that in mind, it is a test of the most well rounded golfer in my opinion. That is why you often see an old fogey such as Tom Watson, Darren Clarke, or Greg Norman at or near the top of the leaderboard on Sunday. It takes a lifetime of learning to excel in these conditions. Royal Lytham and St. Anne's will be no different this year.
The skinny on Royal Lytham is that it is a prototypical British Open links style course. It has tall fescue, slow bumpy greens, fast and hard fairways, and lousy weather. However, one key difference is the over 200 bunkers on the course. Unlike Whistling Straits, where the PGA Championship was held in 2010, most of the bunkers are in play for most players at Lytham and not just for show. Couple the treacherous bunkers with the wind and rough, and hitting fairways at Royal Lytham is at a premium. The player that will win this week will be able to hit his ball where he needs to despite the lousy conditions. Does this scream "Tiger Woods stinger" to anyone else?
Another atypical factor in this championship is slow greens. In America, most of the greens are lightning fast. In Europe this is not the case. Putting aggressively will be tough for some players to get accustomed to, and certainly favors the Euros that are more used to it. Keeping these factors in mind, here are some players I like to contend this week.
Tiger Woods
- If the wind picks up, Tiger's stinger off the tee that cuts through the wind could be the ultimate x-factor here. He also likes to putt aggressively. God I hope he wins.
Justin Rose
- Justin has finished well at Lytham before, and seems to be at just that age for a breakthrough major performance.
Rickie Fowler
- Rickie, seen here teaching some butthead how to play golf, played very well at last year's British Open in some of the worst weather the tournament had to offer. He could be a surprise in 2012.
G Mac
- Graeme McDowell is not the Donk's boy, but he has got all the creative shots necessary to add the Claret Jug to his trophy case. He also keeps his drives low and in the fairway. HUGE.
Sergio Garcia
- Could this be his year? He's got 7 top-10 finishes in 11 British Opens. He'll be around.
LONG SHOT:
Ben Curtis
He does everything right that you need to win a British Open. That's why he won one in 2003.
FOGEY:
Tom Lehman
Lehman won here in 1996 despite being sponsored by Dockers. Maybe if he gets lucky with some weather conditions he can contend again.
That's all folks. Enjoy waking up early, watching golf at breakfast, and watch out for
JUNGLEBIRD
!