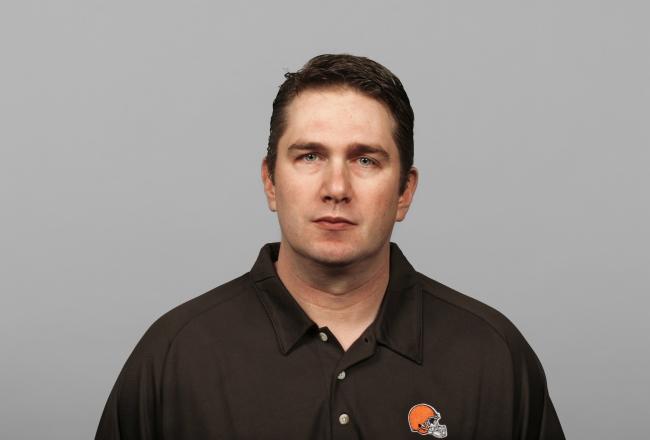 Gather round children, a new football season is upon us! In my opinion, there is no better way to get psyched up for a new football season than with a picture of new Browns head coach Rob Chudzinski. The man is an absolute animal! Get hyped up! Alright, let's get into it. Last season, we had Moose's weekly picks. What a success it was. We begin a new year in earnest, but I will also provide my conference and divisional previews this week. Here we go!
AFC EAST:
NEP (11-5) - BB and the NEP had a tumultuous offseason with the Gronk injury and every murder in the state of Massachusetts being tied to Aaron Hernandez. This hurt the offense, but not enough to keep the Brady bunch out of the playoffs. If TB12 has proven one thing, it is that he can work with pretty much anybody at receiver (as evidenced here by a picture of local radio bozo Jermaine Wiggins catching a football). I also think the Pats defense, especially the run defense, will be improved. This will be enough for them to win the division.
Miami Dolphins (9-7) - The Dolphins are an improving team, but I don't think they are quite there yet. They signed big play receiver Mike Wallace in the offseason, but also lost crucial pieces in OT Jake Long and RB Reggie Bush. Their defense could be a nightmare up front with Cameron Wake and rookie Dion Jordan, but their pass protection is still suspect. They are moving in the right direction though.
Buffalo Bills (5-11) - A rookie QB coupled with a lot of high-priced free agent busts on defense. I don't have high hopes for new coach Doug Marrone this year.
NYJ (2-14) - I have been saying that this team will be lucky to average 9 points a game this year. The only bright spot will be former Lehigh WR
Ryan Spadola
. Dude is gonna be a beast.

AFC WEST:
Denver Broncos (13-3) - The Broncos added Wes Welkah this offseason, but lost Elvis Dumervil to the Ravens after a contract
botch job
, and will be without Von Miller for the first month or so. That said, they don't really have any competition in their division. I like them to win this division fairly easily.
Kansas City Chefs (8-8) - I am gonna be pissed when Dandy Andy brings this team back to respectability very quickly. He will revitalize the offense, and the defense is already pretty good. Chiefs fans are gonna be pissed when Andy wastes timeouts in a crucial game and refuses to run the ball.
San Diego Chargers (7-9) - Phil Rivers and who else?
Oakland Raiders (6-10) - Poor Matt Flynn. He gets traded to team after team and keeps losing the starting job to somebody else.
AFC NORTH:
Cincinnati Bengals (10-6) - This division is going to be tough, but I like the Bungals to take it all. They gave Red Rocket some more weapons on offense (Giovani Bernard could take the league by storm at RB) and their defense is quite solid. They will end up on the top of the heap after duking it out with the Ravens and Steelers.
Baltimore Ravens (9-7) - After Flacco signed his huge contract, everybody else walked out the back door. Pretty funny actually. That said, the Ravens will still be decent with Flacco, Rice and Smith on offense. Their defense will lose them a few games this year though.
Pittsburgh Steelers (7-9) - Pittsburgh seems content to let players leave, and keep letting Big Ben get murdered in the pocket. They are never one of those "really bad" teams though. Similar to the Giants in that regard. They always have a respectable team and record.
Cleveland Browns (6-10) - Barkevious Mingo has a bruised lung. That doesn't sound so great. The Brownies are not going anywhere this year.
AFC SOUTH:
Houston Texans (12-4) - The Texans added a veteran and proven champion in Ed Reed this offseason. If he can stay healthy, this will go a long way. Their offense should be just as prolific as in years past. Let's see if Matt Schaub can get these guys over the hump.
Indianapolis Colts (10-6) - The neck bearded wonder might struggle a bit in his sophomore season, but I think he is one of the best qbs in the NFL already. I like the Colts to make the playoffs again this year.
Tennessee Titans (9-7) - A make or break year for Jake Locker. The offense has been overhauled and its up to Locker to make the atoms dance. The defense includes Bone Crusher Bernard Pollard. This team could sneak into the playoffs if Locker can be a leader.
Jacksonville Jaguars (5-11) - This team is showing signs of improvement on offense, but will struggle in year one under Gus Bradley.
NFC EAST:
Dallas Cowboys (10-6) - Nobody is talking about the Cowboys much this offseason, so I'll take them to win this division. The NFC East is always a crap shoot anyway. Tony Romo played well at the end of last year, and the defense should improve under the tutelage of anyone but Rob Ryan.
Washington Redskins (9-7) - I am very concerned about the health of their quarterback (I won't mention his name since I think ESPN might have trademarked it). If he stays healthy, they win this division. If not, they struggle. It's that simple. I think it lands somewhere in the middle and they maybe just make or miss the playoffs. All-pro linebacker Brian Orakpo is back though, so Geico's head of marketing can rest easy.
NYG (8-8) - Already some injuries on offense and defense, never a good start. The Giants will at times look great, and at times look miserable. Could this be the end for Coach Coughlin? Or do they win the Super Bowl? This team is a mystery.
Philadelphia Eagles (7-9) - The offense is going to be amazing. The defense is going to be terrible. A bunch of 4-3 guys in a 3-4 defense? Yikes. Expect a lot of 42-38 type games with this team.
NFC WEST:
Gay Town 49ers (13-3) - (Above) Jim Harbaugh doing his best
Del Griffith
piano impression. The 49ers are solid this year despite Michael Crabtree tearing his ACL. Colin Kaepernick could go to another level this year, and the defense will be stout once again. This team is a serious Super Bowl contender, even though as we know, it is difficult for a coach to
lose his first Super Bowl
and ever achieve that kind of success again. This team is set up for it though.
Seattle Seahawks (12-4) - San Francisco's biggest threat for the Super Bowl is in their own division. It could just as easily be the Seahawks hoisting the Lombardi trophy this year. Their defense is the best in the league, and Russell Wilson could be in line for the same progression as Colin Kaepernick. The games between these two teams are going to be great fun to watch.
St. Louis Rams (9-7) - Another up and coming team in the NFC West. Sam Bradford lost Stephen Jackson and Danny Amendola, but gained Tavon Austin and a real live blocker in Jake Long. Jeff Fisher will also have this defense firing on all cylinders this year. This team is a tough out for anyone.
Arizona Cardinals (4-12) - They will suck, to be sure.
NFC NORTH:
Minnesota Vikings (10-6) - I like the Bikes in this division. They have a real defense, and have added some good pieces on offense in Greg Jennings and Cordarelle (sic) Patterson. The Jennings addition doesn't help the Vikings as much as it hurts the Packers, but still.
Green Bay Packers (8-8) - I see the Packers falling from grace this year. They lost some key players on offense, and others are dinged up. Not to mention Aaron Rodgers sill has no offensive line. It will basically be him versus the world. The Packers defense, despite being loaded with first round picks, is still lousy. This is the year they get toppled from 1st place in the division.
Detroit Lions (8-8) - The Lions quickly fell apart after a great season two years ago. They look unstoppable at times, and then follow it up with a stupid penalty or turnover. They underwhelm this year and head coach Jeff Schwartz finally gets the axe for a lack of discipline.
Chicago Bears (6-10) - The Bears went out and got Crybaby Cutler some protection on the OL this offseason, but that won't excuse the fact that he sucks. The defense will also suffer with head play caller and pain killer enthusiast Brian Urlacher having retired.
NFC South:
Atlanta Falcons (13-3) - I saw some article on Grantland or ESPN that said that the Falcons were the "7th luckiest" team in the league last year. Complete drivel. The Falcons added Stephen Jackson in the backfield to take the place of marshmallow man
Michael Turner
. This will give Matt Ryan (seen above playing for William Penn Charter HS in Philadelphia, PA) a full arsenal of weapons at his disposal. The Falcons also used all but two of their draft picks to shore up their defense, and added former Giants DE Usi Umenyusi. This team is another NFC Super Bowl contender.
New Orleans Saints (9-7) - The Saints biggest offseason addition was coach Sean Payton returning to the fold after a one year suspension. This means the offense will once again be potent. The new defensive coordinator Rob Ryan will find a way to screw things up though.
Tampa Bay Buccaneers (8-8) - The Bucs added Darrelle Revis and Jonathan Banks at CB, and were very good against the run last year. The offense will depend on Josh Freeman. Over/under on 3 legs broken by Schiano and crew.
Carolina Panthers (6-10) - Cam Newton does not sound like a leader whenever he is interviewed. He sounds lost and always makes excuses. Not good. This team will also struggle on defense. Ron Rivera somehow survived last year, but will not survive this year.
AFC Playoffs:
NEP
Denver
Cincy
Houston
Indy
Baltimore
NFC Playoffs:
Dallas
San Fran
Seattle
Atlanta
Washington
New Orleans
Super Bowl:
49ers over Bengals
MWP (more in depth next week):
Baltimore (+7.5) at Denver: Baltimore
New England (-9) at Buffalo: Buffalo
Tennessee (+7) at Pittsburgh: Tennessee
Atlanta (+3) at New Orleans: Atlanta
Tampa Bay (-3.5) at NYJ: Tampa Bay
Kansas City (-4) at Jacksonville: Kansas City
Cincinnati (+3) at Chicago: Cincy
Miami (+1) at Cleveland: Cleveland (Chudzinski!)
Seattle (-3.5) at Carolina: Seattle
Minnesota (+5) at Detroit: Minnesota
Oakland (+9.5) at Indianapolis: Oakland
Arizona (+4.5) at St. Louis: St. Louis
Green Bay (+4.5) at San Francisco: San Francisco
NYG (+3.5) at Dallas: NYG
Philadelphia (+3.5) at Washington: Washington
Houston (-4) at San Diego: Houston
FOOTBALL!